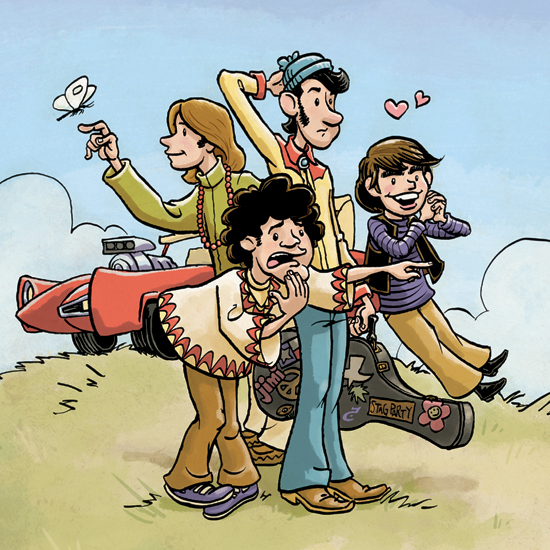 the Monkees--in technicolor
After I completed the sketch, you knew this was coming.
I'm glad I made the effort to get the Monkeemobile in here. Other fun bits: The stickers on Mike's guitar case are the Texas state flag, peace sign, Jimi (Hendrix was the opening act during the 1967 Monkees tour), the Frodus, a peace dove holding a Japanese maple leaf (it's a leaf with seven spiky points on it. What else would it be? Hey man, this site is kid-friendly), The Stag Party (which was the political party Pat Paulsen used to run on. He played the President of the United States in the Monkees tv episode "Monkees Watch Their Feet"), a happy flower power flower, and of course, my signature glyph.
I was also smart enough to draw them standing on that crappy California sand/grass they were always filming on instead of the good midwestern lawns I'm used to.
That's all from me. Rest in peace, Davy Jones.
Also, Peter Tork posted a copy of this on his Facebook page!