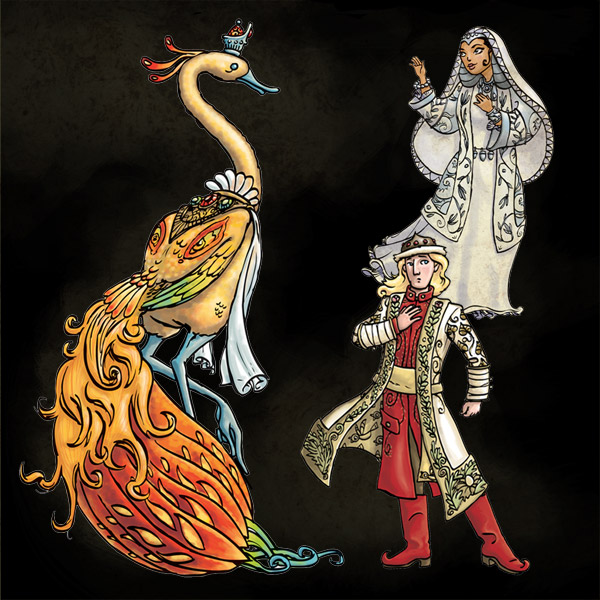 firebird 1
The Chicago Symphony Orchestra asked me to create some character designs for an educational program to nurture an interest of classical music in school children. The selection that was chosen to lead the project was Igor Stravinsky's "The Firebird".
The Story
Prince Ivan heads into the forest one night, and encounters the dazzling, magical Firebird. Prince Ivan catches the creature by the tail. The Firebird promises to come to his aid in the future, if he sets her free. The Prince agrees, and the Firebird gives him a magic feather.
Prince Ivan continues his journey, and discovers a mysterious midnight garden where the beautiful Princess Vasilisa is dancing. She tells the Prince she is a captive of the monstrous King Kastchei—a powerful sorcerer who keeps the source of his power hidden in an egg, somewhere in the castle that looms above the garden.
Princess Vasilisa begs Ivan to leave before he is captured, but the sound of footsteps herald the arrival of King Kastchei's strange guards.
(Read the rest of the story here)
—-
I was excited to work with the CSO, and glad my talents meshed so well with their goals of inspiring children with the arts. The characters were stand-alones, and I've combined them here in one frame. Designing costumes for a Russian fairy tale gives me the flexibility of creating costumes that are based on Russian clothing, but still allowing for flourishes of whimsy.